Theatre and Dance

The Department of Theatre and Dance is committed to academic excellence, offering undergraduate courses of study which prepare students for transfer to four-year Baccalaureate or conservatory programs. A low student-to-faculty ratio provides for more personal attention in the classroom. Students have the opportunity to gain expertise in all of the fundamental areas of Theatre and Dance through an integrated program of study in a liberal arts context. Courses offered by the Department of Theatre and Dance may be used as Humanities or General Elective Credit. Specific courses satisfy NCC and/or SUNY General Education requirements. DAN 126 (Introduction to Modern Dance) serves as one credit of Physical Education activity. Students who wish to pursue the study of Acting, Dance or Technical Theatre at the baccalaureate level are encouraged to consult with departmental advisers.
Course Descriptions
View the Theatre Department's course descriptions and programs of study in the current College Catalog.
Production Program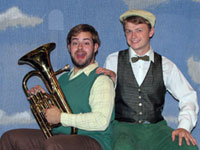 The Theatre and Dance Department's extensive open-to-the-public Production Program includes a major musical, a children's musical, a joint production with the Africana Studies Department, a dance concert and a wide variety of dramas and comedies. Auditions are open to all students enrolled in a minimum of six credits at the College. The Production Program serves as a closely supervised laboratory for the Department's acting, dance and technical theatre courses and as an effective mechanism for taking education beyond the walls of the classroom.
Contact Information
Theatre & Dance Department

Location: Building W
Phone: 516.572.7508
Fax: 516.572.9752
Chairperson: Professor Victor Abravaya
Email: victor.abravaya@ncc.edu